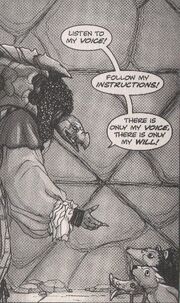 Animal Soul Speaking was the ability to communicate with animals and command their loyalty. It was primarily practiced by the Podlings,[1][2] though some Gelflings, such as Kira, also mastered it.[3][1] SkekSil also appeared to be a practitioner.[4]
References
Edit
↑ 1.0 1.1 Smith, A. C. H., & Odell, D. (1982). The Dark Crystal. Holt, Rinehart and Winston . ISBN 0030624363
↑ Froud, B., Dysart, J., Sheikman, A. & John, L. (2012). The Dark Crystal: Creation Myths, Vol. II. Archaia. ISBN 978-1-936393-80-0
↑ Henson, J. & Oz, F. (dir.); Henson, J., Kurtz, G. & Lazer, D. (prod.); Henson, J. & Odell, D. (writ.) (December 17, 1982). The Dark Crystal (Motion picture). New York City, NY: Jim Henson Productions.
↑ Kessel, B. R. & Arnhold, H. (2010) Legends of the Dark Crystal Volume 2: Trial by Fire. TokyoPop. ISBN 1598167022
Ad blocker interference detected!
Wikia is a free-to-use site that makes money from advertising. We have a modified experience for viewers using ad blockers

Wikia is not accessible if you've made further modifications. Remove the custom ad blocker rule(s) and the page will load as expected.