"

A thousand years ago, this land was green and good, until the Crystal cracked.

"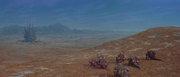 The Bah-Lem Valley[2] was a vast expanse of land where the Castle of the Crystal was located.
The Valley was once the site of a large mountain housing the Great Crystal. When the Fallen urSkeks came to Thra, they demolished the mountain and refashioned it into the Castle of the Crystal.[3] After the Great Division, a great earthquake shook the Valley after the Skeksis cracked the Crystal.
The earthquake was stopped by the urRu, but not in time to save the distant Podling village of Noy.[2] The Valley gradually became a desolate land, due to the Dark Crystal feeding noxious energies along Thra's ley-lines stemming from the Castle.[4] During the Garthim Wars, the Valley was the site of a great battle between the Garthim and Gelflings attempting to free people taken prisoner during the Battle of Namopo Valley.[5]
References
Edit
Ad blocker interference detected!
Wikia is a free-to-use site that makes money from advertising. We have a modified experience for viewers using ad blockers

Wikia is not accessible if you've made further modifications. Remove the custom ad blocker rule(s) and the page will load as expected.