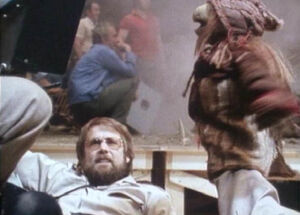 Dave Goelz (born July 16, 1946) joined Jim Henson's company in 1974, first as a puppet bulder and than puppeteer. He is best know for his roles as Gonzo, Dr. Bunsen Honeydew and Zoot on The Muppet Show and Boober and Uncle Traveling Matt in Jim Henson's Fraggle Rock.
Goelz worked on The Dark Crystal, providing the puppetry for Fizzgig and SkekUng (the Garthim Master).
"

I loved the atmosphere on

Dark Crystal

. That turned out to be a very stimulating project, because it was pretty much unprecedented. On the very first day we filmed, the

Skeksis

had to file past the deathbed of

the Skeksis emperor

, performed by

Jim

. The Skeksis all had ulterior motives as they walked by the bed to pay their respects. In our very first shot, I was inside the Garthim Master Skeksis with another puppeteer doing the right hand. I was totally blind except for a little monitor on my chest, and I just stepped off the platform and we started to fall. Fortunately somebody was there and caught us and pushed us back up.

"

—Dave Goelz[1]
References
Edit
External links
Edit
Ad blocker interference detected!
Wikia is a free-to-use site that makes money from advertising. We have a modified experience for viewers using ad blockers

Wikia is not accessible if you've made further modifications. Remove the custom ad blocker rule(s) and the page will load as expected.