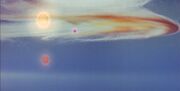 The Three Suns were a trio of stars orbiting Thra.
According to Podling folklore, the Three Suns were brothers who once fought over the daughter of the moon. When she drowned herself out of grief, the three brothers would do battle every nine hundred and ninety nine and one trine.[1]
References
Edit
↑ Smith, A. C. H., & Odell, D. (1982). The Dark Crystal. Holt, Rinehart and Winston . ISBN 0030624363
Ad blocker interference detected!
Wikia is a free-to-use site that makes money from advertising. We have a modified experience for viewers using ad blockers

Wikia is not accessible if you've made further modifications. Remove the custom ad blocker rule(s) and the page will load as expected.