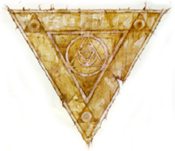 The urRu Death Blanket was a funerary garment worn by dying urRu. Its design incorporated a mix of somber and vivid colours, along with rigid geometrical patterns symbolising the end of life and the wanderings of the departed soul. Unlike other urRu artifacts, the Death Blanket lacks spirals, as the wearer's dreams were by then no longer in his control. The centre of the Blanket had a symbol of the Great Conjunction, with three lesser conjunctions decorating the corners.[1]
References
Edit
↑ Froud, B. & Llewellyn, J. J., (2003) The World of the Dark Crystal. Pavilion Books. ISBN 1-86205-624-2
Ad blocker interference detected!
Wikia is a free-to-use site that makes money from advertising. We have a modified experience for viewers using ad blockers

Wikia is not accessible if you've made further modifications. Remove the custom ad blocker rule(s) and the page will load as expected.